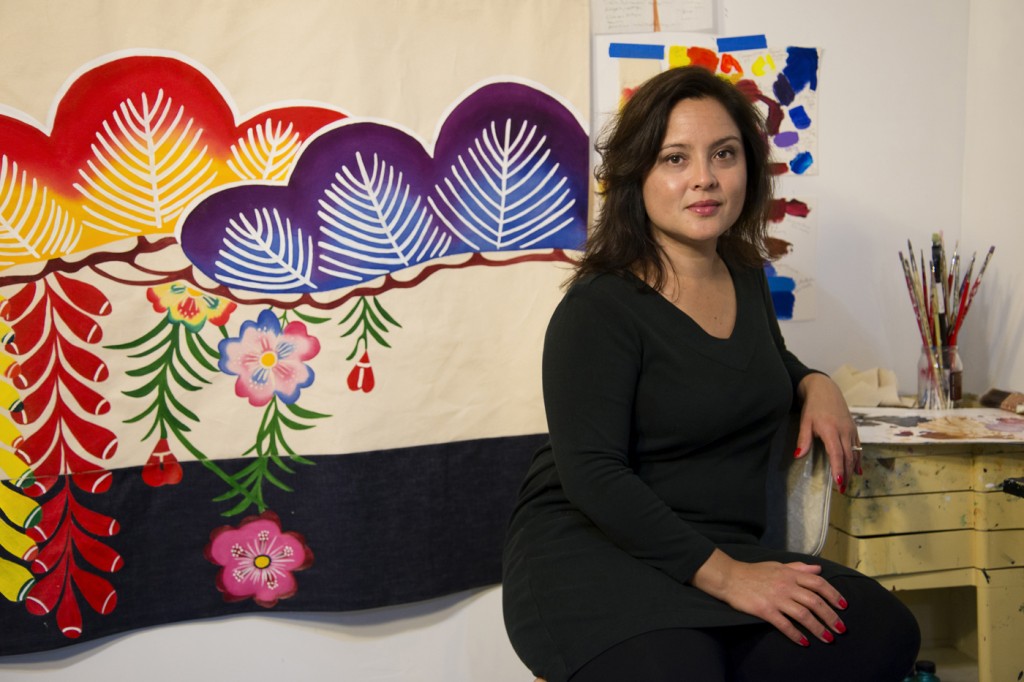 (photo credit: Kiam Marcelo Junio)
Artist Statement
My artwork focuses on themes of distance, belonging and the fluidity of cultural difference and the slipperiness of identity. Okinawan and Hawai'i diaspora and mixed race representations are subjects that run through my work. I start with autobiographical impulses and draw inspiration from popular culture, textile design, personal and community photographic archives and oral history interviews. I collect these images, stories, and histories, and I see what is missing, what is not being told, what is not obvious, and I go hunting for it. I am interested in the overlap, fusion, disjuncture, or vibration that happens when I bring back the missing pieces and put them together.
Asian American studies, contemporary Asian American art, Critical Mixed Race studies, and feminist/queer theory form the nexus for my intersectional scholarly research, publications, and projects.
Biography
I am a Vincent de Paul Professor of Art, Media, & Design and Director of Critical Ethnic Studies at DePaul University in Chicago, IL. I was born in Riverside, California in 1973 to an Okinawan father from Hawai'i and a Spanish-Basque/Anglo mother and raised in Poulsbo, WA–a small Norwegian town in the Pacific Northwest. I received my MFA Studio Art from the University of Illinois at Chicago in 2001 and my BFA in Painting and Drawing from the School of the Art Institute of Chicago in 1994.
I have exhibited nationally and internationally in galleries and museums including: the Chicago Cultural Center, India Habitat Centre, India International Centre, Nehuru Art Centre, Okinawa Prefectural Art Museum, Rose Art Museum, Spertus Museum, and the Wing Luke Museum of the Asian Pacific American Experience. Sugar/Islands: Finding Okinawa in Hawaiʻi – the Art of Laura Kina and Emily Hanako Momohara was on view in 2015 at the Japanese American National Museum with an exhibition catalog published by Bear River Press.
My solo exhibitions include: Uchinanchu (Kwan Fong Gallery of Art and Culture, California Lutheran University, Thousand Oaks, CA and W. Keith and Janet Kellogg University Gallery, Cal Poly Pomona, Pomona, CA 2016); Blue Hawaii (Harold B. Lemmerman Gallery, New Jersey City College, Jersey City, NJ 2015; University of Memphis Fogelman Galleries of Contemporary Art, Memphis, TN 2014); Sugar (Woman Made Gallery, Chicago, IL 2010), A Many-Splendored Thing (Gene Siskel Film Center, Chicago, IL 2010), Aloha Dreams (Diana Lowenstein Fine Arts, Miami, FL 2007), Loving (Grand Projects, New Haven, CT 2006), and Hapa Soap Operas (Diana Lowenstein Fine Arts, Miami, FL 2003).
I am coeditor of War Baby/Love Child: Mixed Race Asian American Art (University of Washington Press, 2013) and Queering Contemporary Asian American Art (University of Washington Press, 2017); cofounder of the Critical Mixed Studies conference, journal, and association; reviews editor for the Asian Diasporic Visual Cultures and the Americas (Brill); events reviews editor for American Quarterly and I am a new editorial board member of Amerasia Journal (UCLA). I am currently illustrating Okinawan Princess: Da Legend of Hajichi Tattoos, written by Lee A. Tonouchi (forthcoming Bess Press 2018) and am the lead curator for a Chicago-Midwest module for the Virtual Asian American Art Museum – a digital humanities project led by New York University in partnership with the Smithsonian and Getty Research Institute (forthcoming September 2018).
I currently serve on the board of the Association for Asian American Studies (sections representative) and am a former board member of the Critical Mixed Race Studies Association(vice president) and Japanese American Service Committee. Diversity MBA Magazine selected me as one of the 2012 "Top 100 Executives & Emerging Leaders Under 50."
Download my CV [PDF].