3AP Crowdfunding Campaign
Help produce Okinawan Princess: Da Legend of Hajichi Tattos.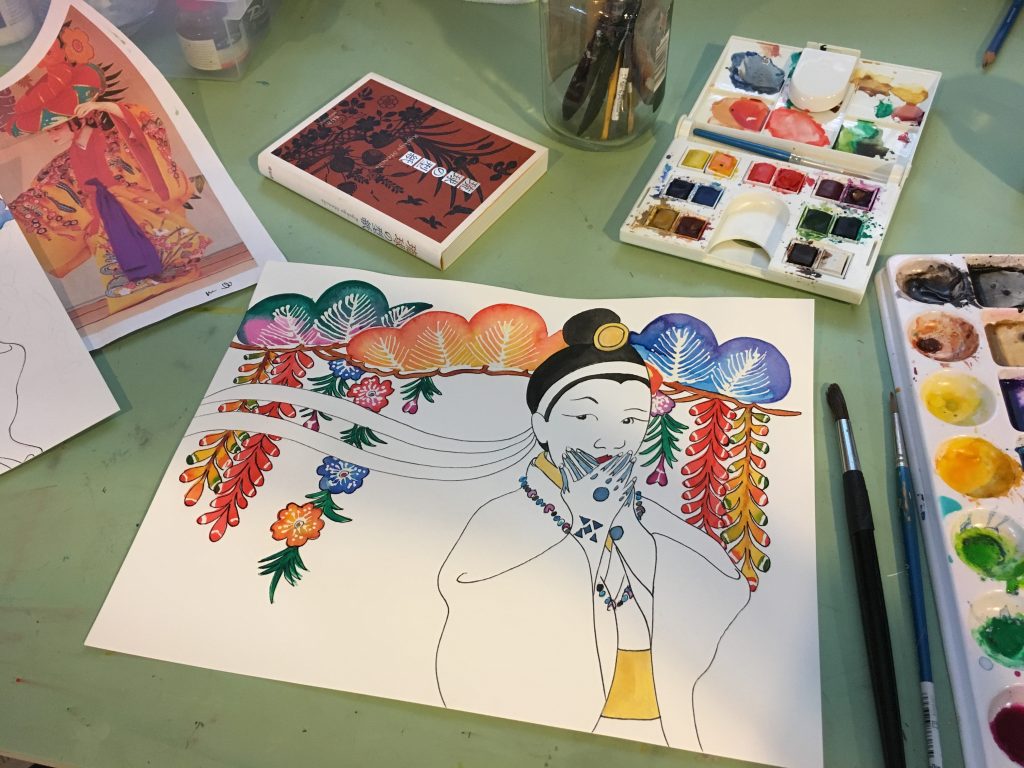 I'm excited to be illustrating my first children's book, Okinawan Princess: Da Legend of Hajichi Tattoos. This is a bilingual feminist fairy tale set in Hawai'i and Okinawa that illuminates an ancient tradition and pushes back against white normative standards of beauty. Okinawan Princess is written in Pidgin (Hawai'i Creole) by Lee A. Tonouchi (aka Da Pidgin Guerrilla) and translated by Dr. Masashi Sakihara into a mix of Japanese and an Okinawan language called Uchinaaguchi. The book will feature over 35 of my original watercolor illustrations.
As thrilled as we are about this book, there are significant expenses we need to cover to complete the publication. So we're asking for your help!
Thanks to 3Arts, I have the opportunity to run a crowdfunding campaign through the 3AP (3Arts Projects) platform. I'm inviting contributions in any amount, which will enable us to share this little known indigenous custom with future generations.
Please join us!
Crowdfunding with a Match – 3AP (3Arts Projects) is a unique crowdfunding platform with a built-in match that helps Chicago artists finance new creative work. 3Arts matches 1/3 of each project goal, charges no fees to artists, and offers mentoring and technical support.
I was able to reach my initial goal of $4,000 and now we are going for a stretch goal of $10,000.
The campaign will run March 23–May 7, 2018.
Visit the 3AP site to learn more about my project and make a tax deductible donation to support "Okinawan Princess."
https://3arts.org/projects/okinawan-princess/

Talks and Exhibitions:
2018 Association for Asian American Studies Conference
March 29-31, 2018
Westin St. Francis Hotel in San Francisco, CA.
335 Powell Street, San Francisco, California 94102 
Panel: Centering Legacies of Resistance: Asian American Visual Culture Strategies
Saturday, March 31, 2018 8:00am-9:30am in Bristol
Chair: Valerie Soe, San Francisco State University
Discussant: Tina Takamoto, California College of the Arts
Presenters:
Laura Kina, DePaul University
Collaborative Scholarship in Digital Humanities: Creating the Virtual Asian American Art Museum
Johanna Poethig, California State University, Monterey Bay
Legacies of Resistance and the Commodification of Art and Protest in Fossil Capitalism
Julie Thi Underhill, California College of the Arts
(Auto)biographical Persistence: Cham-American Filmmakers Defy the Rhetoric of Disappearance
Jenifer Wofford, University of San Francisco
Dearly Beloved/No Scrubs

Artist talk and solo exhibition "Laura Kina: Champaru"
Swarthmore College
Friday, April 13, 2018, 3 – 5PM
McCabe Library 100 Atrium
500 College Avenue
Swarthmore, PA 19081
https://swatcentral.swarthmore.edu/?trumbaEmbed=view%3Devent%26eventid%3D282821344
This event is part of Compass: Navigating Multiness, an undergraduate three-day conference, to bring together people both personally and academically interested in the Multi experience.
The talk will take place in the McCabe atrium, followed by a reception in the 2nd floor exhibition space.
Lecture:
University of Connecticut
Transpacific Imaginations & Unsettled Visions
Contemplating and Celebrating Margo Machida (Professor Emerita, AAASI)
April 13-14, 2018
This two-day symposium, which opens with an evening keynote address by Professor Lisa Yoneyama (University of Toronto), is inspired by Margo Machida's foundational work within the fields of Asian American art, diasporic Asian visual culture, and transpacific studies. As the Asian and Asian American Studies Institute celebrates its 25th anniversary, this symposium considers, contemplates, and celebrates one of its own.
All talks will take place in the Humanities Institute Reading Room, located on the 4th Floor of Homer Babbidge Library.
369 Fairfield Way, Unit 1005
Storrs, CT 06269
April 13, 2018 / 630 PM
Keynoted Address: Lisa Yoneyama (University of Toronto)
April 14, 2018 10:30 AM – 4:30 PM (SYMPOSIUM)
1030 – 1130 AM

HAWAI'I, TRANS-PACIFIC LABOR FLOWS, AND HISTORIES OF PLACE
Franklin Odo, Amherst College 
1130 – 1230 PM         LUNCH 
1230 – 130 PM
QUEERING CONTEMPORARY ASIAN AMERICAN ART:  The Optics of Queer Studies and Critical Mixed Race Studies
Laura Kina, DePaul University
130 – 145 PM COFFEE BREAK
 145 – 245 PM
WAR, GENOCIDE AND JUSTICE: MEMORY WORK IN ASIAN AMERICAN ART
Cathy Schlund-Vials, UConn 
245 – 3 PM                 COFFEE BREAK
3 – 4 PM PACIFIC ITINERARIES: ISLANDS, OCEANIC IMAGINARIES, AND SITES OF CONVERGENCE IN CONTEMPORARY ASIAN AMERICAN ART
Margo Machida, UConn
4 – 430 PM                 FINAL THOUGHTS

Group Exhibition:
Asian Arts Initiative's 25th Anniversary Celebration
https://www.asianarts25.org/25th-anniversary-season
"Then and Now"
May 4, 2018–August 17, 2018
Opening Reception: Friday, May 4, 2018 5pm
Featuring live interactions with artists Saya Woolfalk and Shelly Bahl
Asian Arts Initiative
1219 Vine St
Philadelphia, PA 19107
Curated by Alexandra Chang, Curator of Special Projects and Director of Global Arts Programs at Asian/Pacific/American (A/P/A) Institute at New York University.