Watch the video from our Oct 18, 2017 Queering Contemporary Asian American Art book panel at the A/P/A Institute at New York University featuring the editors Laura Kina and Jan Christian Bernabe and presentations by Greyson Hong (artist), Kyoo Lee (John Jay College), Zavé Martohardjono (artist), and Saya Woolfalk (artist):


New Publications: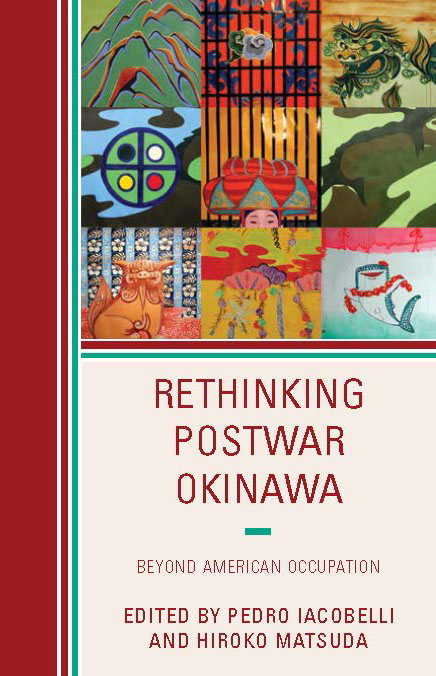 On the cover: Laura Kina "Flowers for your Heart" 2007.
Kina, Laura. "The Black Pacific through Okinawan Eyes: Photographer Mao Ishikawa's "Hot Days in Camp Hansen!!" and "Life in Philly." In Rethinking Postwar Okinawa: Beyond American Occupation, edited by Pedro Iacobelli and Hiroko Matsudo, 149–168. Lanham: MD, Lexington Books, 2017.
Kina, Laura. "Kay Ulanday Barrett Interviewed by Laura Kina." The Asian American Literary Review, Vol 8, Issue 2 (Fall/Winter 2017):  72-86. https://aalr.binghamton.edu/interview-kay-ulanday-barrett-by-laura-kina/

Amerasia Journal:
January 2018 I joined the Editorial Board of Amerasia Journal

Awards:
I was 1 of 20 artist selected for a 2018 3AP (3Arts Project)
"3AP is a unique online crowdfunding platform that has a built-in match to help Chicago artists finance new creative work. In addition to matching 1/3 of each project goal, 3Arts provides behind-the-scenes coaching and technical support, including video production for each participating artist."
Laura Kina, Okinawan Princess: Da Legend of Hajichi Tattoos. $4,000 to design and publish an Okinawan feminist children's book that raises awareness about Okinawan traditions and culture (March 23 – May 7).

Group Exhibition:
Mary Porter Sesnon Art Gallery at University of California Santa Cruz presents:
Spoken/Unspoken: Forms of Resistance
February 8 – March 17, 2018
curated by Shelby Graham and UCSC students
Featuring work by Ruth-Marion Baruch, Laura Kina, Hung Liu, Yolanda Lopez, Yoko Ono, Jo Hanson, Irene Lusztig, with artifacts about Angela Davis and posters from the Guerrilla Girls and artists from Self-Help Graphics.
As part of Santa Cruz's countywide SPOKEN/UNSPOKEN exhibition series, the Sesnon Art Gallery at the University of California, Santa Cruz highlights a collection of artists and activists engaged with forms of resistance. The term "resistance" can represent various profiles from opposition to struggle; it can also portray resilience, strength, courage, and standing up for basic rights. Many artists examine the strength behind resistance and challenge the status quo from politics to art making.
Laura Kina UCSC artist talk – "Painting Okinawan Identity, Diaspora, and Resistance" Tuesday, February 20, 2018 1:30pm.
McHenry Library lower level classroom 1256
1156 High St, Santa Cruz, CA 95064
College Art Association Conference Panel
"The Virtual Asian American Art Museum: Postwar Japanese American Art in Chicago"
Wednesday, February 21, 2018, 2:00-3:30pm
Room 503, Los Angeles Convention Center

"Chicago: Someday, Somewhere – the Photography of James Numata and Yasuhiro Ishimoto"
Jasmine Alinder, University of Wisconsin-Milwaukee
John Tain, Asia Art Archive
"Ray Yoshida's Museum of Extraordinary Values"
Karen Patterson, John Michael Kohler Arts Center
"Michiko Itatani: Painting the Cosmic Novel"
(Chair) Laura Kina, DePaul University
Abstract:
This panel focuses on the work and transnational lives of four Japanese American postwar artists—James Numata (1918–1997), Yasuhiro Ishimoto (1921–2012), Ray Yoshida (1930–2009), and Michiko Itatani (1948–)—featured in the "Chicago-Midwest" module of The Virtual Asian American Art Museum (VAAAM). VAAAM is a large-scale digital humanities project led by New York University Asian/Pacific/American Institute (A/P/A) and the New York University Division of Libraries in partnership with the Smithsonian Institution and the Getty Research Institute that features enhanced access to an array of art and tools for presenting new collaborative scholarship on Asian American art history.
The "Chicago-Midwest" module geospatially maps the careers of artists in Chicago against known social patterns and settlements in the city. The first portion of this scalable module is a series of submodules highlighting Japanese American artists whose biographies reflect immigration and migration paths of Japanese to Chicago including pre-WWII labor migration, post-WWII Japanese American internment camp resettlement, migration from Hawaii to Chicago, and post-1965 immigration from Japan. The role that institutions such as the Institute of Design and the School of the Art Institute of Chicago had in drawing artists from around the world is examined, as is the role of archives and collections, such as those of the Japanese American Service Committee and the Art Institute of Chicago, in recording and preserving their histories. These artists are historically and/or artistically significant, but have been underrepresented in the canon of art history and master narrative of the Japanese American experience.
 
2018 Critical Mixed Race Studies Conference
Resisting, Reclaiming, and Reimagining
University of Maryland March 1-3, 2018
Adele H. Stamp Student Union 3972 Campus Drive, College Park, MD, 20742
Panel:  Canaries in the Race Mine: Global Mixed Race Cultural Studies
March 1, 2018 1:00-2:30pm in Banneker B
"Looking for Merle – Picturing US Globalization through Asian Female Stars"
LeiLani Nishime, University of Washington
"Resistance, Rage, and Resilience: QTPOC, disability, and mixed-race identity in the poetry of Kay Ulanday Barret"
Laura Kina, DePaul University
"As Above, So Between: Gazing at Miss Lala as a Mixed-Race Figure"
Elizabeth Fei, DePaul University
"Trevor Noah and Racial Liminality in Post-Apartheid South Africa"
Myra Washington, The University of New Mexico
2018 Association for Asian American Studies Conference
March 29-31, 2018
Westin St. Francis Hotel in San Francisco, CA.
335 Powell Street, San Francisco, California 94102
Panel: Centering Legacies of Resistance: Asian American Visual Culture Strategies
Saturday, March 31, 2018 8:00am-9:30am in Bristol
Chair: Valerie Soe
Laura Kina – "Collaborative Scholarship in Digital Humanities: Creating The Virtual Asian American Art Museum"
Tina Takemoto
Julie Thi Underhill
Jennifer Wofford
Johanna Poethig